The huge exhibition presents around 800 of Warhol's works in 33 different media formats and in three scenographic landscapes: Filmscape, TV-Scape and Cosmos. The exhibition design won the German Design Prize in Gold in 2011.
ANDY WARHOL. OTHER VOICES, OTHER ROOMS
Stedelijk Museum, Amsterdam, 12.10.07–13.1.08
Moderna Museet, Stockholm, 9.2.–4.5.08
Wexner Center, Columbus / Ohio, 13.9.08–4.1.09
Hayward Gallery, London, 7.10.08–18.1.09
Curator: Eva Meyer-Hermann
Exhibition architecture and graphics, media architecture, book design: chezweitz & roseapple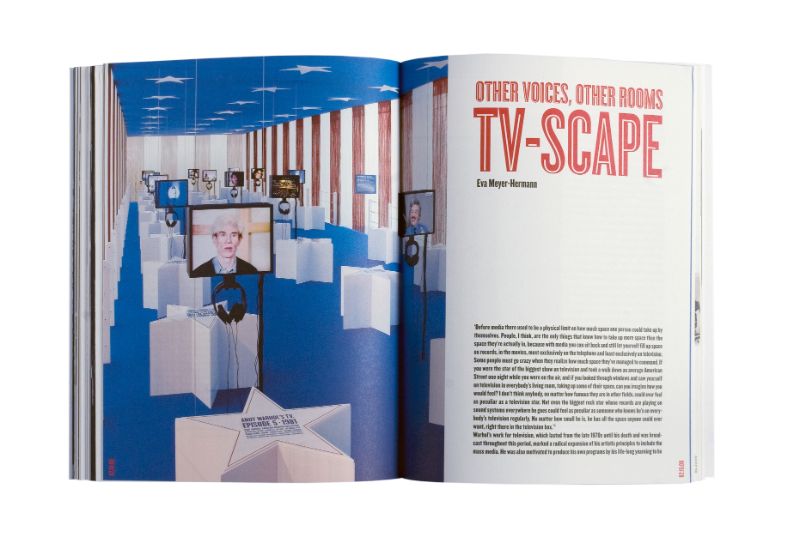 The publication accompanying the exhibition at all four museums translates the curatorial spaces in the rhythm of one page per minute into book space.
Andy Warhol. A Guide to 706 Items in 2 Hours and 56 Minutes
Editor: Eva Meyer-Hermann
NAi Publishers: 1st edition 2007, 2nd edition 2008, 254 pages, 264 coloured illustrations, cut flush binding with reflective foil in book jacket (English and Swedish editions)
Graphic Concept, layout and typesetting: chezweitz & roseapple