The Fotomuseum Antwerp is always aiming to further improve their visitors experience. For fresh input, they invited students from the Media and Information Design MA of Sint Lukas Brussels to explore new ways of engaging people with their collection. I had the pleasure of leading the two-day workshop on-site.
What is a photography museum? A museum that shows photographic work or one that shows photography as a medium with its technical, sociological, economical and artistic aspects? The Fotomuseum Antwerp (FoMu) does both. Housed in a converted warehouse on the banks of the river Schelde, it regularly shows contemporary photographers, but is also home to a vast collection of technical history, based on the archive of former photographic company AGFA-Gevaert which was founded in Antwerp.
Currently showing three exhibitions over three floors, the FoMu was a perfect object lesson to analyze the range of scenographic means in an exhibition room, that seems at first glance not overtly designed. But just the framing alone can make such a difference: dark or light frames separating photographic groups. Protruding frames throwing shadows on the artwork and enclosing it. A shiny surface reflecting the visitor and the artwork vis-a-vis. Not to mention the layout of the hanging, the wall colors, the positioning of the texts e.t.c.. Being really clever draughtsmen (and women), the students recorded all findings visually.
Everybody had brought their favorite photo at my request to think about how to exhibit them to bring out their special qualities. Photographies are such interesting exhibits because they have lost their fixed physical Gestalt. Students brought photos on their laptops, smart phones, as paper printouts, real photographic prints or offset-printed postcards and transformed them into murals, sculptures, projections, light boxes and objects.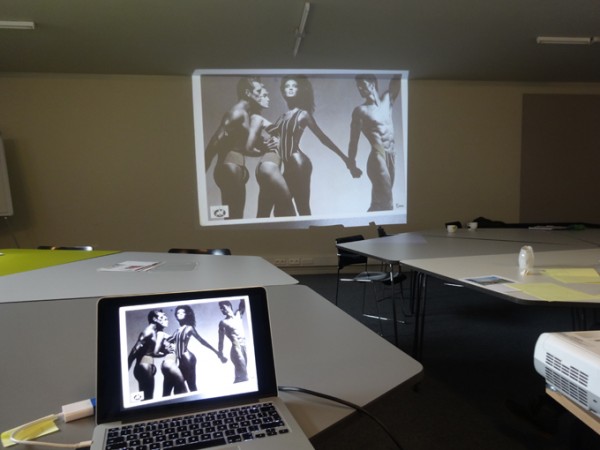 Our main focus of the workshop though, lay on visitor interaction, so we undertook some field studies. What do people actually do in exhibitions? How long do people stay in the rooms, how long with one exhibit? Do they look at all exhibits, and if not, which ones do they look at most?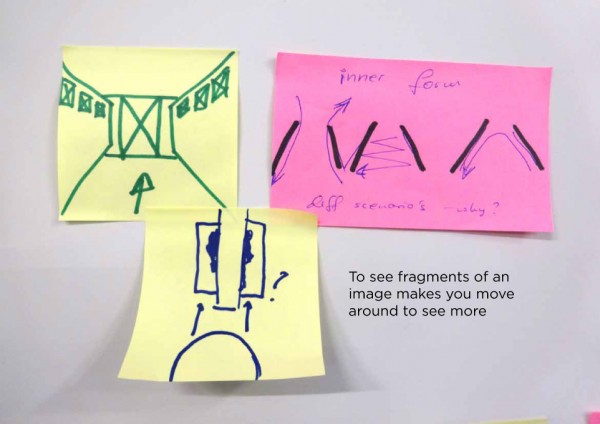 How do they move through the room? And what else do they do? There is one person who knows more about this, than anybody else in museums: the invigilator. One of them provided us with a wealth of observations, curatorial advice and philosophical musings on the nature of photographic exhibitions. From my experience, this is a source of user data not yet fully explored by museums, and another argument for developing exhibitions in a more collaborative fashion.
We had the good fortune to be able to apply our new learnings directly to a real life scenario, as curator Tamara Berghmans introduced her concept for next years show. Interestingly she claimed that "photography is an object". Alas the FoMu collection at her disposal certainly proves her point: next to one million prints ranging from daguerrotypes to digital prints, they own cameras, photographic materials and the apparatus to produce it. It sounded like a fascinating exhibition and I will not spoil the fun by giving any more details. To my joy, the students plunged headlong into 3-D Prototypes and I share some impressions with you and hope that you will be able to see the show in 2016.
Observations, drawings and prototypes by students of Media and Information Master of Sint Lukas Brussels: Laura Beck, Flore de Crombrugghe, Kim Hoebe, Iwona Pomianowska, Ian Six, Cedric Zwaenepoel. Tutors: Rose Apple and Johan van Looveren.
All photos by Rose Apple, unless otherwise indicated.