At the Museum of Things, we hosted students of Jens-Nydahl Primary School in Berlin Kreuzberg for a jolly project week. Twenty-one kids from age six to eleven drew floor plans, furnished apartments, designed wallpaper and built dream homes. Best of all – they turned our white cubes into very colourful ones! Here are some impressions of a busy week in the D.I.Y. Home Advice Centre: 

On Monday the kids drew floor plans of the rooms they sleep in.

They also started to build their own room in the museum with our big building cubes.

Then they discovered the coloured tapes.

The kids started taping furniture …

… and carpets,

… and windows,
… and they did not stop!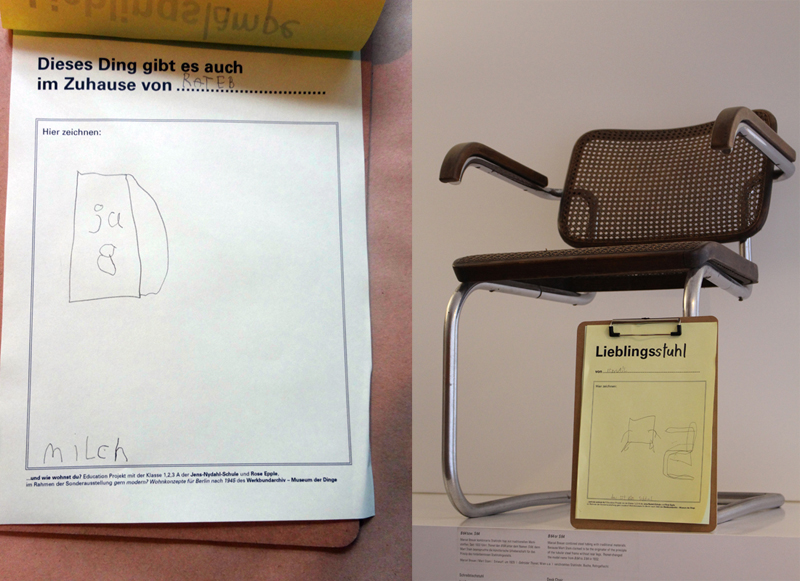 On Tuesday, the students looked at the stuff we live with.

They drew furniture and other objects people have in their bathrooms, kitchen and living rooms,

including the most important items in a home – the people that live there!

Then they let them wander around their rooms on our magnetic board.

On Wednesday the kids produced 20 metres of wallpaper!

They drew around objects that are typically found in a kitchen …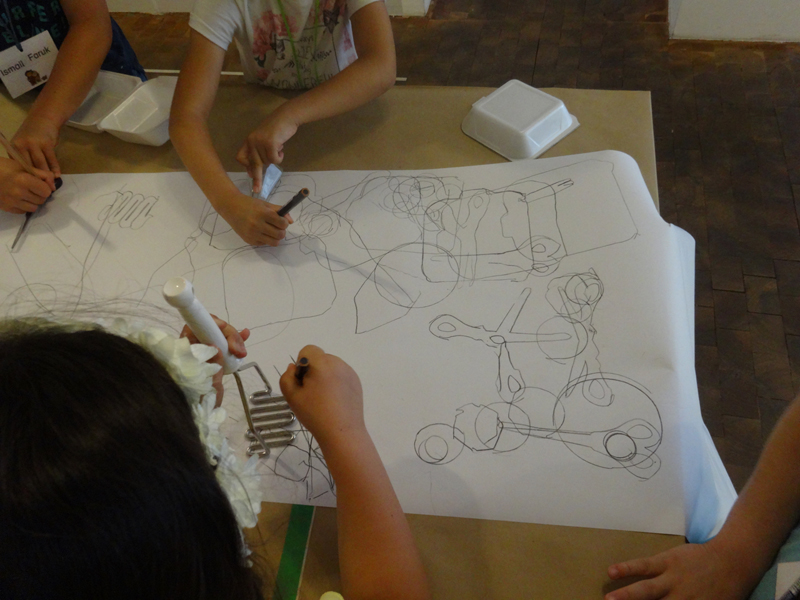 … again and again and again.

Then they coloured in the overlapping areas, creating abstract patterns.

On Thursday the kids built their dream homes,

designing crazy features,

… with lots of materials.
Would you not like to live here?

On Friday they invited their families to show all their hard work.
Thank you for coming everybody!
A big thank you as well to exhibition curator Nicola von Albrecht, the whole team of the museum and intern Hannah Seifert for their fantastic support and to the lovely students and teachers of class 1,2,3 A of the Jens-Nydahl Primary School in Berlin Kreuzberg for bringing such enthusiasm to the project. Here you can read more about the D.I.Y. Home Advice Centre,
Workshop concept and realisation by Rose Epple. The wallpaper project was adapted from the highly recommended book "Art workshops for children" by Hervé Tullet. All photos not credited otherwise are by Rose Epple
Werkbund Archiv – Museum der Dinge
Guest Curator/Project Management: Nicola von Albrecht
Co-Curator of DIY Home Advice Centre: Rose Epple
Exhibition scenography and design: Alex Valder and Rose Epple
Visual identity: Rose Epple