"We are starting an initiative to bring actors with disabilities into German film and television and we need a visual identity. Are you up for it?"– "Yes of course, I said, but only if I get to work with these actors in the process."
Roughly two years ago, this conversation was the start of an ongoing collaboration with the two founders of Rollenfang as well as with the actors they represent. Wolfgang Janßen and Matthias Brettschneider want to empower disabled actors to regain control over their media portrayal and make German mediascape more representative of the diverse society we live in. People with disabilities have been mostly absent from German TV and Films–even in films that tell stories of disabled people, these roles are usually played by actors without disabilities. If they appear on screen, it is mostly in documentaries that focus on their disability and thus reduce them to this particular aspect of their life.
Yet, there are trained full-time professional actors with disabilities in Germany, such as the cast of award-winning RAMBA ZAMBA theatre group in Berlin. We were lucky to win over some of them to participate in a two-day workshop to kick-start the work on the Rollenfang identity. The aim of the workshop, that I developed together with Isabel Prugger and Lena Panzlau, was to generate ideas for visual content and style and at the same time gain more understanding of the potential and aspirations of these actors.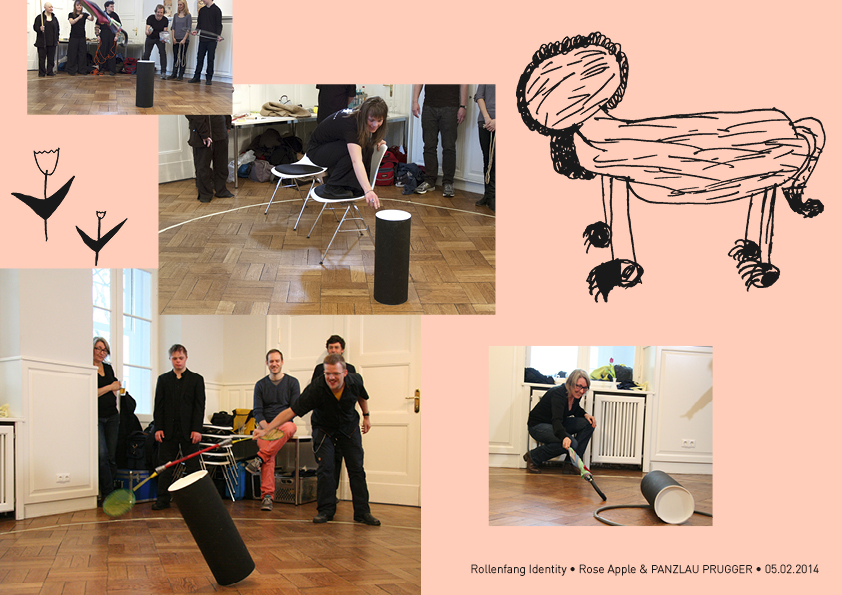 "Rollenfang" is a German compound word consisting of Rolle meaning role or part of an actor and Fang, noun of the verb to catch. How do you catch a role? Let´s act it out. We started by literally throwing a roll, rescuing it from an imaginary pool, drawing traps and devices to catch them bloody things. The pool of ideas thus generated lead directly to the visual metaphor we finally adopted.
What about the type? Using different tools such as rollers and all working on one long role of paper, we invented new letterforms.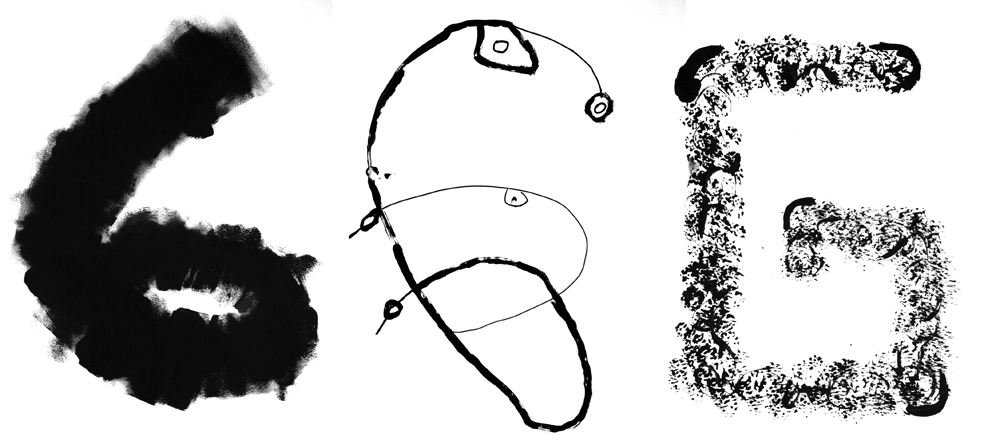 Even though some of the letters were beautiful in their own right, we finally decided to visualize our call for diversity by a more conceptual approach. Taking the typeface FF DIN, which is based on DIN letterforms still used for German road signage, we disrupted the epitome of German Normal with the generous consent and support by Fontshop,
Finally our actors chose their favourite roles and improvised scenes playing James Bond, Cat Woman or a typical chat show afternoon format. Not only was this one of the most productive and fun workshops that I have ever lead, but also I was greatly impressed by the professional ease and creativity of the Ramba Zamba actors when improvising scenes, developing ideas and talking about their aspirations and dreams.
This is what I learned in the process: Rollenfang is not only something that should be done to help these very talented  actors. It is the German public that needs Rollenfang to improve our national television! Even me, who hardly ever watches German TV as it is so boring, would tune in to see Jonas Sippel as the new Tatort inspector.
Rollenfang is now on Facebook and online: www.rollenfang-berlin.de. Here´s a film about the workshop (in German) on Vimeo.
Related post: Easy Language

Workshop concept and visual identity by Rose Apple with Panzlau Prugger.
Photos of workshop by Isabel Prugger. Photos of actors by Gianni Plescia.